ADA Sidewalk Requirements
ADA Sidewalk Concrete Services Throughout San Diego, CA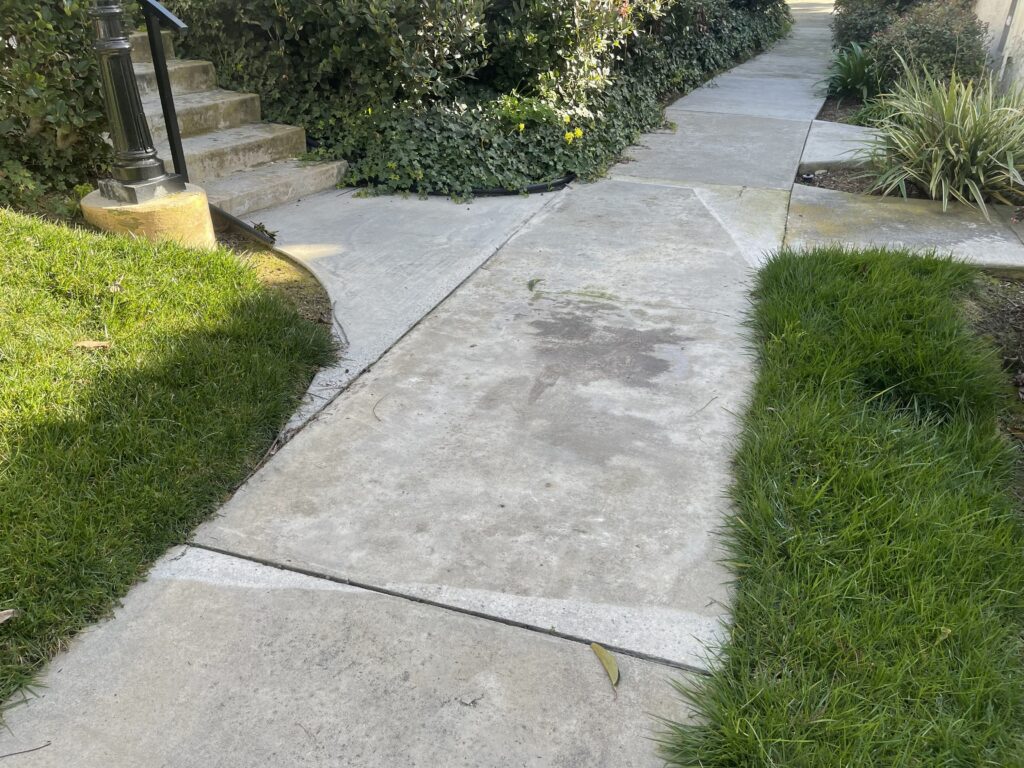 Mitigating Tripping Hazards, ADA Sidewalk Compliant Concrete Services
Welcome to Exact Construction, a leading construction company specializing in concrete sidewalks that meet ADA sidewalk requirements and tripping hazard mitigation for public spaces. 
Our commitment to excellence and expertise in the field will help you not only understand these regulations but also surpass them to create safer and more accessible public spaces. Ensure compliance, mitigate tripping hazards, and exceed expectations with up-to-date information.
Understanding ADA Regulations for Sidewalks
The Americans with Disabilities Act (ADA) was enacted in 1990 to prohibit discrimination against individuals with disabilities and promote accessibility in public spaces, including sidewalks. Compliance with ADA regulations is mandatory for all public entities and private businesses that serve the public. Sidewalks, as essential components of public infrastructure, must adhere to specific guidelines to ensure a barrier-free experience for individuals with disabilities.
Tripping hazards on sidewalks pose significant risks to pedestrians and can result in costly lawsuits.
Our team at Exact Construction is well-equipped to handle various concrete projects, including:
Uneven or cracked concrete sidewalks
Raised tree roots disrupting the concrete surface
Gaps between concrete slabs
Broken or damaged concrete edges
Sunken sections of the concrete sidewalk
Spalled or deteriorated concrete surfaces
Poorly repaired concrete patches that create uneven surfaces
Our concrete services are tailored to meet the needs of diverse clients, including but not limited to:
Cities and Municipalities
Businesses and Commercial Establishments
Homeowners Associations (HOAs)
Educational Institutions
Healthcare Facilities
Retail Centers and Shopping Complexes
Hospitality Industry (Hotels, Resorts, Motels)
Airports and Aviation Facilities
Public Parks and Recreational Areas
Parking Garages and Lots
Hire us for Concrete Sidewalks That Mitigate Tripping Hazards!
ADA Sidewalk Requirements
The Americans with Disabilities Act (ADA) has specific requirements for sidewalks to ensure accessibility for individuals with disabilities. These requirements are crucial to promote inclusivity and mobility for all pedestrians. ADA-compliant sidewalks must meet certain criteria, including width, surface texture, and detectable warning surfaces.
Width: ADA regulations mandate that sidewalks should be at least 36 inches wide to accommodate wheelchair users and individuals with mobility aids. In certain situations, a wider path may be necessary, such as in areas with high pedestrian traffic.

Surface Texture: To aid those with visual impairments, ADA-compliant sidewalks should have a consistent and firm surface texture. This texture helps individuals navigate sidewalks safely, especially when using mobility devices like canes or walkers. Avoiding loose gravel or irregular surfaces is essential to meet these requirements.

Detectable Warning Surfaces: In specific locations, such as at curb ramps and transit platforms, ADA mandates the installation of detectable warning surfaces. These surfaces consist of truncated domes or tactile tiles that alert visually impaired individuals of potential hazards ahead.
For up-to-date information on ADA sidewalk requirements, refer to the ADA Standards for Accessible Design by the United States Access Board and the ADA.gov website for Information and Technical Assistance on the Americans with Disabilities Act.
ADA Sidewalk Slope Requirements
The slope of sidewalks is a critical aspect of ADA compliance, as improper slopes can pose significant challenges for individuals with mobility impairments. ADA regulations specify maximum and minimum slopes to ensure safety and ease of use for pedestrians.
Maximum Slope: According to ADA requirements, the maximum cross slope allowed on a sidewalk is 2% (or 1/4 inch per foot) to prevent wheelchair users and others from experiencing difficulties due to steep inclines. Cross slope refers to the slope across the width of the sidewalk.

Maximum Ramp Slope: For curb ramps and sidewalk ramps, the maximum allowable slope is 8.33% (or 1:12 ratio). This means that for every 12 inches of horizontal length, the ramp should rise no more than 1 inch vertically.
For the most current information on ADA sidewalk slope requirements, consult the ADA Standards for Accessible Design by the U.S. Department of Justice and the ADA Accessibility Guidelines by the United States Access Board for streets and sidewalks.
ADA Sidewalk Ramp Requirements
Sidewalk ramps are essential components of accessible pathways, allowing individuals with mobility devices to transition smoothly between different levels. ADA provides specific guidelines for the design and installation of these ramps.
Ramp Slope: As mentioned earlier, the maximum allowable slope for ADA-compliant sidewalk ramps is 8.33% (1:12 ratio). This slope ensures a gradual incline that is safe and manageable for wheelchair users and other pedestrians.

Width and Length: ADA requires that ramp width should be at least 36 inches to accommodate wheelchairs comfortably. Additionally, the minimum length of a straight ramp should be 60 inches to provide a proper transition.
For up-to-date information on ADA sidewalk ramp requirements, you can refer to the ADA Standards for Accessible Design by the United States Access Board and the ADA.gov website for Information and Technical Assistance on the Americans with Disabilities Act.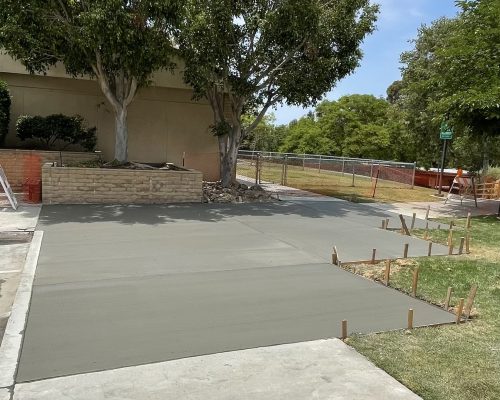 Public Park Concrete Replacement
Enhance your park's safety and aesthetics with our expert concrete replacement services. We create durable and inviting pathways.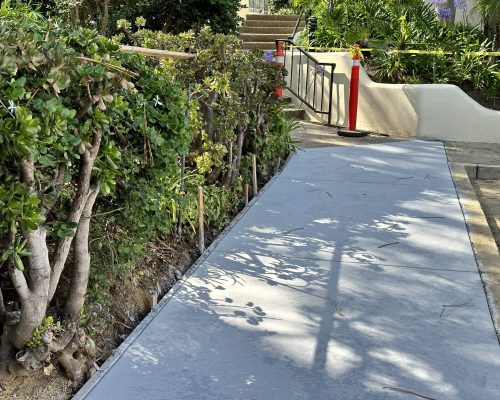 Sidewalk ADA-Compliant Concrete
Ensure accessibility for all with our ADA-compliant sidewalk concrete replacement solutions. Safe and inclusive pedestrian pathways.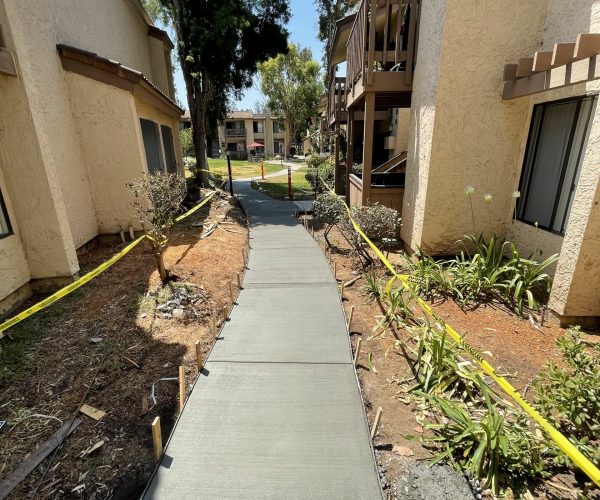 Step into Perfection - Unbeatable Concrete Walkways & Stairways by Exact Construction!
Experience unmatched craftsmanship with Exact Construction, your go-to concrete company for flawless walkways, stairways, and more. Our experts deliver safe, durable, and stylish solutions that elevate your property. Get a quote today!
Experienced Concrete Contractor in San Diego, CA
At Exact Construction, we offer a wide range of top-notch concrete services for both residential and commercial needs. Our skilled team of experts is committed to delivering durable and aesthetically pleasing results on every project. With years of experience in the industry, we take pride in providing the best solutions for your concrete needs.
Request ADA Sidewalk Concrete Estimate!